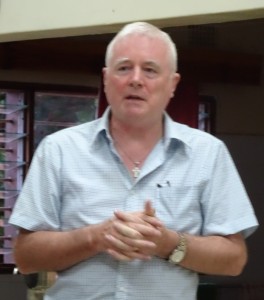 Br. Joe Mosely 14 Jan 1951 – 7 July 2018
My dear friend Joe died in Boksburg, South Africa on Saturday 7th July while  recuperating from serious surgery.  Joe was a Christian Brother from Dublin working in Zambia (as he had done for about 35 years). Sometime in April  he went down to South Africa for tests and an MRI after being unwell for a while. He was diagnosed with a benign tumour on the membrane of the brain and operated on in April.  Things took a bad turn after  the surgery and he remained in a coma for about 4/5 weeks but eventually came through.  Physical recovery was slow but it was great news to hear that he  suffered no memory loss or any loss of mental faculties at all.  Unfortunately on Sat morning 7th July Joe had a major seizure which proved fatal.
I have known Joe for about 25 years meeting him originally through my own brother Donal who is also a Christian Brother working in Zambia and who has known Joe as a close friend for about forty years.  I can only guess at his sense of loss. For myself, I know its an old cliche – but we never do tell people what they  mean to us when they are around and then we have regrets when it is too late. I dont know if Joe realized how good a friend he was to  me, (but I suspect from the numbers that attended his funeral ceremonies in Africa that he was a good friend to many). I dont know if I ever told him, but I hope he knew. He could be a man of few words, he was reflective, a quiet, gentle presence, listening calmly with a little smile on his face when I was on a rant about something or somebody who had upset me or angered me or whatever. No drama, just calmness, a strong faith and a quirky sense of humour.  And every year around my birthday a small insignificant little card with an African scene on it would arrive in the post, and inside, in a big loopy scrawl that was almost illegible, birthday wishes, many blessings and always the instruction "celebrate the wonderful person that you are"!   Surely that is the  greatest gift we can give another person – to accept and celebrate them just as they are! Thank you my friend for that gift!
Joe loved Africa very much and after his funeral Mass last Weds was cremated and his ashes will be returned to his beloved Zambia. I have missed the fact that there is no funeral to go to here in Ireland, no home to visit and in the future there will be no grave to visit.  I guess we forget how these things play such an important  part in the  grieving process until we dont have them, and then  we dont know what to do with ourselves. That's probably why I have written this.  Maybe I will have  to go to Zambia one day and see it all for myself. In one of his last texts  Joe sent a link to this version of the song Africa https://www.youtube.com/watch?v=-c9-poC5HGw and said how much he liked it especially the beginning before they even start singing. Quirky!!
Rest in Peace, Joe,
"For I know that my Redeemer lives"  Job 19:25