Marino Nativity Knitting Group
Marino Nativity Knitting Group completed three sets of Nativity figures before  Christmas and donated them to the three primary schools – St. Vincent de Paul Infant School, St. Vincent de Paul Girls Schools and Scoil Mhuire Boys School.   We also had a great parishioner who made wonderful stables for each crib which can be used for storage and for backdrops when the crib is on display. The group, who only started in Oct, have about 10 members who meet once a month to compare efforts, help each other and chat! We will be meeting in Jan again to plan our next project.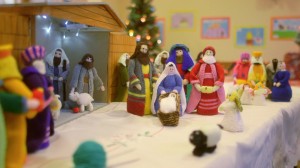 A highlight for the group  was being filmed by Kairos Communications on Saturday 5th December for the Angelus on RTE over Christmas.  This is being shown on RTE 1 at 6pm every second evening from Christmas Eve up to 5th January 2016.
*********************
St. Vincent de Paul Church, Marino 
Christmas Carol Concert with Nativity Drama on Mon 21st December 2015 at 7.30pm.
*************************
2 October 2014 7.30pm –  St. Patricks Church, Skerries
River of Song
 As part of the programme of events celebrating the 75th anniversary of St. Patrick's Church, Skerries, the youth of the parish will provide an hour of song, dance and music on Thursday, 2nd October at 7.30pm in the church.  The Papal Nuncio, His Excellency The Most Rev Charles John Brown, will be joining us for the evening.  All are welcome to attend."
*****************
27 August 2014
25th anniversary of the opening of St. Maur's Church, Rush in 1989.  Celebration Mass will be offered in the church by Archbishop Diarmuid Martin on Sunday next 31st August at 11.30am. 
*****************
20th May 2014
TV Mass
The 11.00 am Mass on Sunday 1 June 2014 will be broadcast on RTE TV from St. Maur's Parish, Rush. Co. Dublin
First Communion Celebrations
Congratulations to all the children who have received their First Communion recently!
Final celebrations are this Saturday 24th May as follows:
Skerries – St. Patricks NS  10.00am
Rush – St. Catherine's NS 10.00am      Rush NS  12.30pm
Lusk – Lusk NS 10,00am and 12.00pm