Since September 2017 I have been appointed to the parish of St. Sylvester, Malahide, Co. Dublin. 
Contact: mary.kirk@dublindiocese.ie           Twitter: @malahideparish
website: www.malahideparish.ie
*****************************
"Our plans for working together in mission will only work when they are rooted in an understanding of the calling of all Christians to the ministry of witness to their faith with the ecclesial community and in the world." Archbishop Diarmuid Martin at the Pro-Cathedral, Dublin –  Holy Thursday 2008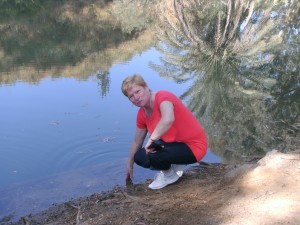 (The above picture of me dipping my fingers in the River Jordan was taken on a trip to the Holy Land in April 2012 – wonderful trip!)
My name is Mary Kirk and I was appointed by the Archbishop of Dublin, Ireland as a Parish Pastoral Worker to the Parishes of Skerries, Rush, Lusk and Donabate in North County Dublin in September 2011.  I am one of 28 lay parish pastoral workers currently employed by the Dublin Diocese.  I am from Rush,  and so I am in the fairly unique position of living in one of the parishes that I also work in.
I decided to start this blog to record the many and varied things that are happening in parishes at the moment, and to provide access to some resources and reflections etc – hopefully it will be another way of communicating information to parishioners in my local area and maybe even further afield!  The name of the blog comes from the phrase "It is better to light one candle than curse the darkness"  and I hope I may sometimes bring some little light into another person's day.   I think there are so many good things happening in parish and church and I want to make some of these things known so that parishioners and others may keep  hopeful and keep their light of faith burning too.  St. Peter tells us that we should always be ready to give reasons for our hope to whoever asks  – and the reason for our hope is of course Jesus Christ, who works in and through all of us, as we go about our lives in this small area of North County Dublin.
What a difference we could make if we all did as the song says: Take your candle – Go, light your world!  See http://youtu.be/WsM5lt9tCFo
I hope to add links, photos, music etc as I get more proficient at this – but it may take some time initially to get up and running properly