I have come back to this blog after almost two years absence!  I dont know why I stopped posting – I guess my time  management skills were not so good!
Having recently taking up a new position as Parish Pastoral Worker in a new parish (Malahide)  I think this  is a good time to take stock and organise my time better and get going again. 
I have been in Malahide just 3 months now and I am very happy with my appointment.  I am very busy in the parish and the school but thats good  – I am getting to know parents and parishioners and hopefully will start building relationships that will be helpful in the future.
We have just been through the really busy time of Christmas ceremonies and it was so fulfilling.  My main contribution was with the children's Mass on Christmas Eve and Christmas Day and we used a knitted nativity as part of the Masses which I had just completed in time.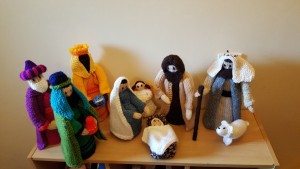 You will see elsewhere on this site that I have had parishioners knitting Nativity sets in every parish I have been in – it was a great way to get to know people and do something useful at the same time. Especially in Marino where the knitting group presented a knitted Nativity to each of the three schools and managed to get themselves filmed by Kairos Productions for the Angelus in Advent for RTE 1.