As I have already written about two of the parishes I work in (and included a picture) I thought I had better mention the third parish that I spend a lot of time in – St. Maur's Parish, Rush.  St. Maur's Parish, was constituted in 1730. Rush is a coastal town in north County Dublin, about 25km from the city of Dublin, with a population of around 8000 people.  And here's the picture  of the current church:
This church was blessed and opened in 1989, so its very new!  It replaced a much older church which now houses a library.
The ruins of the original St. Maur's chapel lie in Whitestown cemetery, about a mile west of the centre of Rush. These date back to Anglo-Norman times and are named after Saint Maurus, a follower of St. Benedict. There is a legend connected with these ruins that some French navigators got caught in a storm. They made a vow to St. Maur that if they survived they would build a chapel in his honour on the first point of land they reached. They subsequently landed at Rogerstown, Rush and built a chapel there in his honour. The area became known as Knightstown and later Whitestown. (With thanks to Wikipedia).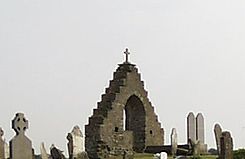 (Ruins of the original church in Whitestown cemetery)
In 1776, a church was built closer to the centre of Rush to replace the old chapel. It was also dedicated to St. Maur and is one of the earliest examples of a penal Catholic church in the Fingal (North County Dublin)area.  This is the church that now houses Rush library.