I was in Skerries parish for most of my day today (2 Oct 2013).  The patron saint of Skerries parish is St. Patrick and the church is in the centre of the town. St. Patrick's Parish was constituted in 1730 from the neighbouring parish of Lusk. The present Church of St. Patrick replaced an older church on the same site. The bell tower of the old church was retained and the bell still tolls daily inviting people to prayer.
.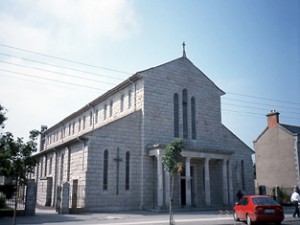 The main thing for me today was a meeting with Fr. Richard and the principals of the schools to facilitate the running of the parish preparation programme for Confirmation children, and to agree dates for the Sacraments of Confirmation and Communion in the parish.  The parish preparation programme "Confirming Our Children" is designed to help all parents, guardians and the parish community to become more actively involved in the sacramental journey, as the children prepare for Confirmation. In addition to the preparation given to students in school, it is important that they are also supported both in the home and in the parish.  With this in mind, the "Confirming our Children" parish programme will involve a special focus on Confirmation at a number of the Saturday evening Masses, over the coming months, and the Confirmation Classes will be involved in a short Confirmation Ritual at these Masses.  It is also an important opportunity for all parishioners, as the wider Christian family, to support and pray for the children as they prepare to receive this special Sacrament.  Dates for these  Masses in Skerries  are as follows:  (All Sat. at 6pm)  12 October; 9 November; 7 December; 25 January 2014 and 1 March 2014.
This year, for the first time I am organising the same Confirmation programme in Lusk parish and the Masses there are going to be on the same dates but at the 7.30pm Mass – so I hope I can make it from Skerries to Lusk ok. (I will just have to be super-organized!)
But I have a great group of parents in each parish who will be working with me to plan and organise everything so I know it will all be fine when the time comes!  I met the Lusk group this evening and it was so wonderful to meet people for whom nothing is a problem!  They are so willing to get involved and go into the schools and do all the arranging for me – its great and such a relief for me.  Thank God! These things just cannot happen in parishes without the involvement of parents – so Im going to enjoy these events this year as I know I have an enthusiastic group behind me who want the best for their children and who are interested in getting involved in these church events.